Distributed and Collaborative Intelligent Systems and Technology (DCIST) CRA
Description
The objectives of the DCIST CRA are to:
Explore key underlying technologies and methods to enable scalable and heterogeneous teams of robotics and autonomous systems across all Army-relevant environments
Provide adaptive and resilient operations
Increase warfighter capabilities and standoff
Increase coverage and create dilemmas for the adversary
Provide force multiplication
Enable faster decision-making
Extend maneuverability in ways yet-to-be-imagined
The mission of the DCIST CRA is to enlist the help of research partners to address the primary research question of how do diverse, embodied agents collectively sense, infer, reason, plan, and execute in face of a peer adversary?
Research thrusts include:
Thrust 1- Multi-Robot Collaborative Autonomy
Deep Semantic Mapping for Multi-Agent Situational Awareness
Adaptation and Learning in Multi-Robot Systems
Guarantees, Performance Limits, and Robustness of Multi-Robot Systems
Overcoming the Curse of Dimensionality – Scalable, Heterogeneous Multi-Agent Control
Robustness to Environmental Complexity and Dynamic Environments
Thrust 2 – Adversarial Team Behavior
Hierarchical Abstractions, Planning & Control in Presence of Adversaries
Tactical Engagement of Heterogeneous Teams
Models of Deception and Misinformation and Adversarial Policies for Team Behaviors
Thrust 3 – Mission Specification and Execution
Human Interaction with Large Heterogeneous Teams
Communication Networks: Learning What, When and Who to Communicate with in Heterogeneous Teams
Dynamic Mission Specification, Task Allocation and Planning in Heterogeneous Teams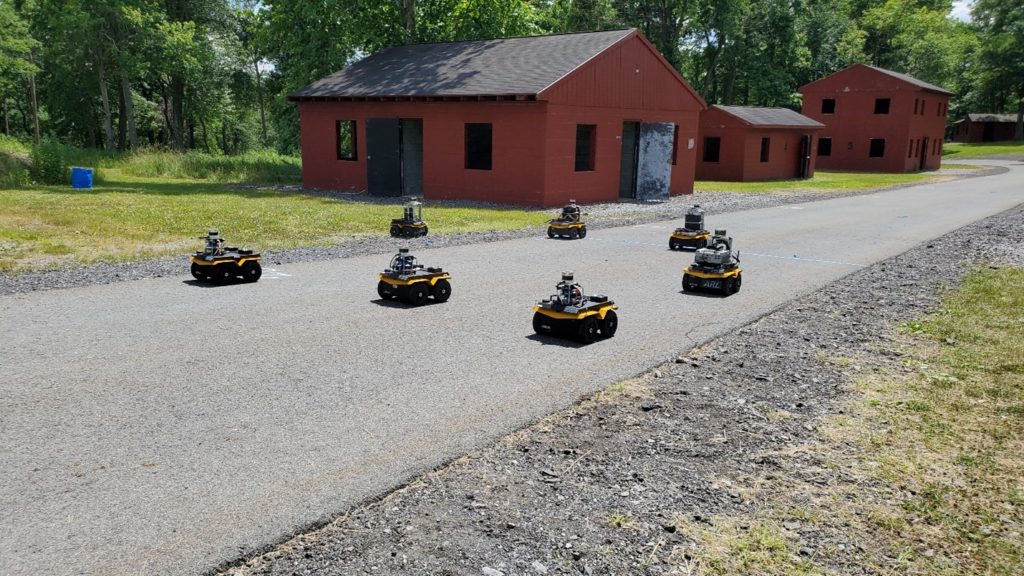 Program Structure
For the DCIST CRA, the Consortium Lead Research Organization is the University of Pennsylvania. The University of Pennsylvania is supported by Georgia Tech and the Massachusetts Institute of Technology as Thrust Area Lead Organizations. Representatives from both DEVCOM ARL and the Consortia Lead Research and Thrust Area Lead Organizations make up the Technical Management Group of the CRA. The TMG works to continuously steer the vision and quality of research within the program as well as develop the CRA's Biennial Program Plan. The BPP covers a two-year timeframe and provides a detailed plan of research activities and objectives for the CRA. The BPP also includes the efforts of the Consortia technical subawardee organizations.
External Website:
ARL Collaborative Alliance Manager:
Dr. Brett Piekarski
brett.h.piekarski.civ@army.mil
University Lead:
Professor Vijay Kumar
Nemirovsky Family Dean and Professor, University of Pennsylvania kumar@seas.upenn.edu
Period of Performance Start:
September 2017
Period of Performance End:
September 2027
Status:
Not Accepting Applications
Eligibility Limitations:
Academia
Large Business
Small Business
FFRDCs may propose effort as allowed by their sponsoring agency and in accordance with their sponsoring agency policy.